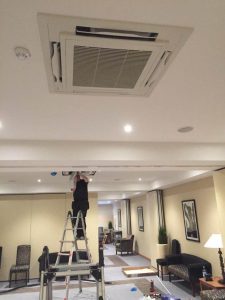 Have you been querying AC installation cost? Have a browse on Complete Air Conditioning, based in the heart of Ireland, we offer all our services at a competitive price, so you can be assured that we have the best prices on the market. We are a passionate company, dedicated to ensuring you get the best air conditioning systems on the market. We promise every single one of our client's orders fits their requirements perfectly as we understand the challenges companies face.
We understand the AC installation cost is something to take seriously when fitting a system in the office or work area. Professional businesses need to maintain a professional environment, this means getting the temperature right inside, despite what it's like outside your front door. Some people struggle to work properly in the heat, so its crucial for your business to function efficiently even in the summer months.
What is the Cost of AC Installation in Dublin?
We have a range of high calibre air conditioning and heating products as well as unique services to choose from. We fit our systems in to offices, schools, industrial sites, commercial units and domestic properties. We can work with any size premises, just give us a call and we can arrange a no-obligation consultation. For added peace of mind, once an installation is completed, you will automatically be sent a maintenance agreement to ensure your equipment is working to its optimum performance throughout its working life.
We hold great pride in sustaining our outstanding reputation for our customer service and devotion with every client we meet with. Customer satisfaction is something we take incredibly seriously, which is why we always ensure our clients are 100% satisfied with their AC installation cost and service. Our main aim as a business is to not only leave our customers feeling fully satisfied, but is also to future-proof all of your equipment whilst deploying solutions that are also scalable.
If you wish to speak to a member of our friendly team today about our AC installation costs and services, please give us a call today on 01 8530252. We are always on hand to answer any questions you have and we can also arrange a consultation, in which we can discuss any pricing and systems you have in mind. Alternatively, send us an email with your contact details and query to info@completeair.ie and we will reply as soon as possible.