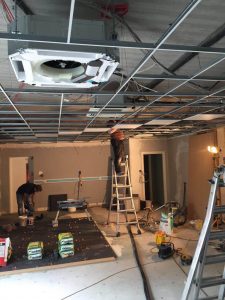 Are you searching for a reliable company to install your new air conditioning in Ireland? Welcome to Complete Air Conditioning, we can provide our customers with a complete service. We are here to assist you through your system design and installation and also any maintenance that may be needed thereafter. 
Here at Complete Air Conditioning, we have assisted clients in a wide variety of industries throughout Ireland. It is our aim to maximise existing air conditioning system investments while deploying solutions that are scalable and future-proofed. We have provided air conditioning systems in Ireland to large commercial buildings, portacabin suppliers, nightclubs and bars,  restaurants, office blocks, retail outlets and comms rooms. Whatever your business requirements may be we will tailor our services to meet them. 
Looking for Air Conditioning Service in Ireland?
Along with installing air conditioning in Ireland we also regularly assist our clients with planned preventative maintenance. We believe that this is one of the most important things to undertake when you have air conditioning in Ireland. Our trained engineers will carry out regular site visits to ensure that every part of your air conditioning system is operating at optimum efficiency. Our expert maintenance can help reduce unnecessary wear and tear, and it will also help you avoid costly unexpected repairs. By maintaining your air conditioning you will also be reducing your energy bills, if the system isn't working in an efficient manner you will notice a big difference. Your air conditioning system should be inspected, cleaned, and serviced at least once a year to prolong the life-span of the equipment. 
At Complete Air Conditioning we only work with both the leading suppliers and engineers in the industry. We only install air conditioning in Ireland that we would be happy to have in our own property and we ensure that every system installed meets our customer's individual requirements. We understand the unique challenges faced by companies of all sizes and use our many years in the industry to benefit them. 
To find out more about our air conditioning in Ireland contact us today. Reaching us could not be simpler, you can just fill in the contact form on our website and we will get back to you as soon as possible. Our experienced team will be able to provide you with all the additional information you require and answer any queries you may have. We look forward to helping you with your air conditioning in Ireland.